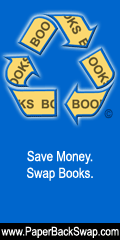 So,
I've mentioned before
that I have
a PaperBackSwap account
. The premise is that you list any book* you own that you want to get rid of, and as you send them off, you receive credits to request books from anyone else in the system.
*That meets certain conditions
They also have a system where
you get extra credits for getting referrals
. Now, I don't think I'll ever get many, even under ideal circumstances;
I'm not a connector
, and I think most people reading this already participate in PaperBackSwap, or have already ruled it out.
But if you're interested, my username ("nickname") is LCGSTG, so please toss that in when it asks who referred you.
Or, just click this link right here.
In the meantime, check out the books I've got up for grabs: